Following the Paris Boat Show, TEMO shares with you the latest innovations in the world of boating. Boats like no other, a revolutionary jet-ski, a cover that does away with the need for antifouling, or a floating object detection system: there was something for everyone! What all these new products have in common is a firm commitment to clean, safe and fun boating. Let's dive into some fascinating innovations that are already seeing success.
Birdyfish, the foiling dinghy accessible to all
Behind the evocative name hides a light, easy-to-handle dinghy that allows you to learn how to sail on foils. Whether at a sailing school, or with friends or family, this new generation dinghy opens up new perspectives in small boat sailing. From 10 knots of wind, Birdyfish takes to the air. There is very little trimming required: this boat is all about the pleasure of discovering the unique sensation of flight.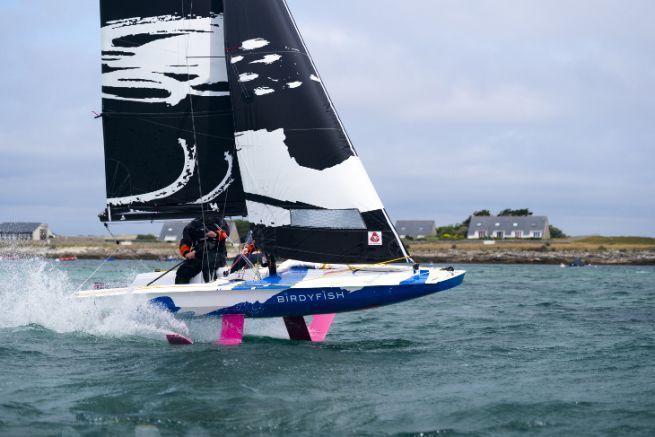 The origins of Birdyfish

Pierre Rhimbault, an engineer and high-level sportsman (notably having raced in the one-design Solitaire du Figaro race) – "I was a professional skipper in the Figaro and I didn't have access to the sensation of foiling: too expensive," he tells us. The first prototype was created at the engineering school in La Rochelle, and the young company is now based in Nantes on France's west coast and has chosen to manufacture locally, with direct distribution. Their slogan is, as you will have understood: "Flying with foils is within everyone's reach".
The plus of Birdyfish

This dinghy is evolutionary: as you learn, you can add a range of options to sharpen your knowledge... and your performance!
Overboat: revolutionising the jet-ski - better and no noise
With no more noise or exhaust fumes, Overboat is a revolutionary sea scooter that relies on three cutting-edge technologies:
- A direct-drive electric motor
- Foils
- Automated controls.

---
Thanks to this unique combination, energy consumption is 5 times lower than an equivalent craft without foils and propelled by an outboard motor. For leisure boaters or professionals, the numerous possibilities of the Overboat will make things easier on the ears of any local residents as well as those of the fish.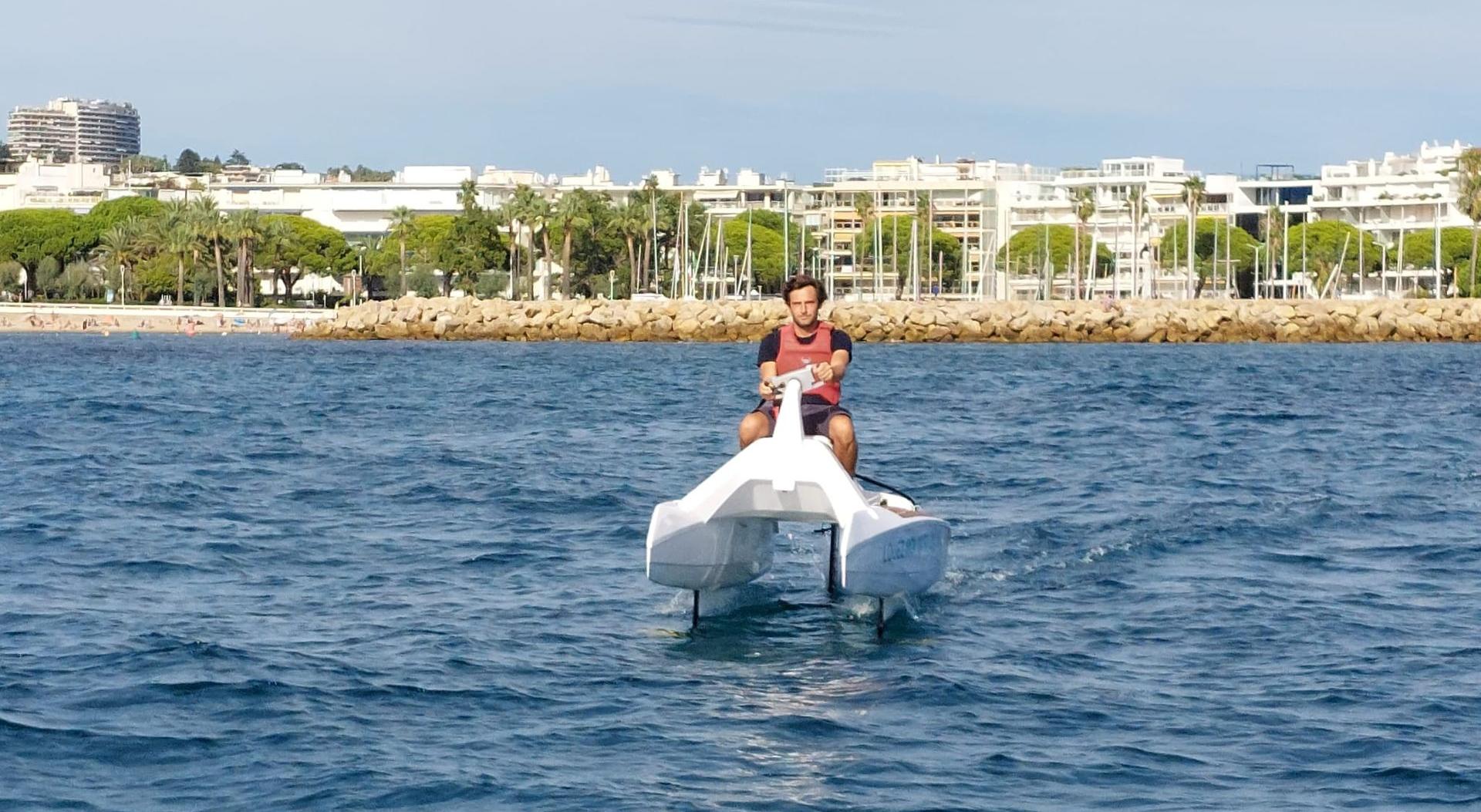 The origins of Overboat

Back in 2018, oceanographer Vincent Dufour set out in search of "A solution for going boating while respecting the marine ecosystem 100%". The company now employs a dozen experts and is developing its innovative jet-ski in France's Occitanie region.
The plus about Overboat

The power of Overboat being just 4.5 KW, it can be used in France, for example, without a licence. "Stable, easy (...) you get the same sensations as on a jet-ski, the same speed, but without the noise" said Armel Le Cléac'h after testing one.
K-Ren: an end to antifouling!
We've been dreaming about it for so long now! K-Ren is a protective cover for the boat's hull that does away with the need for the annual haulout and antifouling. Opting for K-Ren means saving 10 years of haulouts, reducing wear and tear on your boat and protecting the environment.
Each cover is made to measure, in a high-tech PVC fabric that is resistant to numerous factors, including light, mould and UV light.  In about 30 minutes - much less than antifouling - it is attached to the hull. Once removed, weighing just 20 kg, it is easily folded to fit into its carry bag. At the end of its life, this cover is 100% recyclable.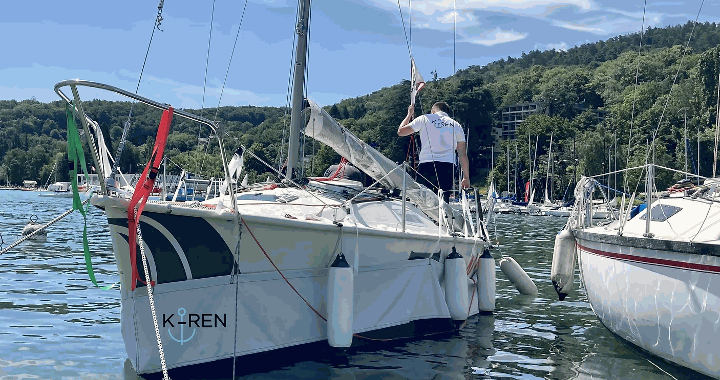 The origins of K-Ren

"How do you maintain the boat's hull and keep it clean without polluting the harbour?" This was the question posed by the founders of K-Ren, experts in textile construction and passionate about the ocean. The challenge was taken up by a family-run business based near Montpellier in the south of France, and they've opted for French production.
The plus about K-Ren

A service provision option including installation, removal, maintenance and storage of the cover is available from partner bases.
Dufour 32, a cruising yacht with the fun option
We all know Dufour Yachts and their cruising sailboats. The new Dufour 32, just launched in 2021, stands out from the crowd thanks to a collection of neat ideas. Pleasure and modularity are the things in store:
- Outside, the cockpit can be transformed into a spacious sunbathing area or a convivial dining area under an easily adjustable shade.
- Inside, two independent cabins, which is a rare find aboard a 9.36 m hull, a galley, heads compartment and a convertible saloon can comfortably accommodate 6 people for cruising.  
This cruising yacht has been equipped with a tiller, offering great sensations when under sail. An ideal boat for trips with family or friends.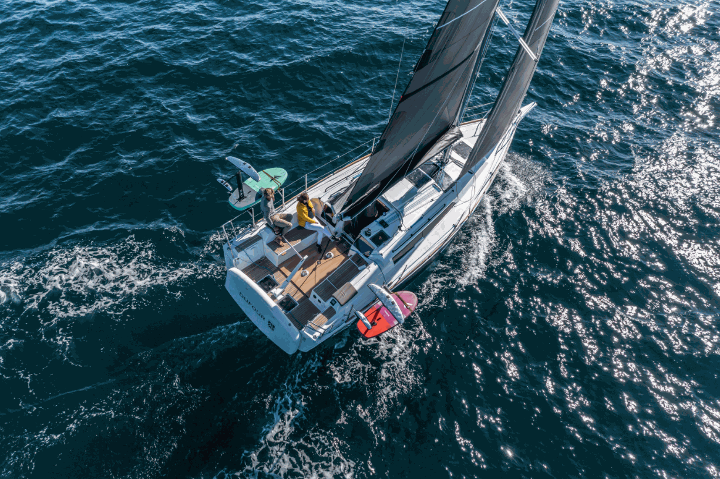 The plus about the Dufour 32

This yacht even has stowage racks for surfboards or other water toys down the sides. But the genius idea? The transom can be transformed into a paddleboard. Umberto Felci, naval architect for Dufour yachts, says: "The aim was to bring fun to yachting." And it's clearly paying off!
OSCAR, artificial vision for safety at sea

The nice name also refers to a hi-tech surveillance system designed to prevent collisions at sea. Fixed to the masthead, OSCAR combines several optical sensors linked to an artificial intelligence system that will warn the skipper of any floating obstacles, large or small, day or night. For recreational boaters, racing sailors, blue water cruisers and motor boaters, OSCAR has developed systems to suit all types of vessels.
The origins of OSCAR

It was while on a passage to the Cape Verde islands that Raphaël Biancale, engineer and amateur sailor, lamented the lack of a hi-tech tool that could take over watchkeeping for UFOs (unidentified floating objects), especially at night. OSCAR is now developed by BSB Marine in Brittany in partnership with German investors and is assembled in Austria. A great European collaboration!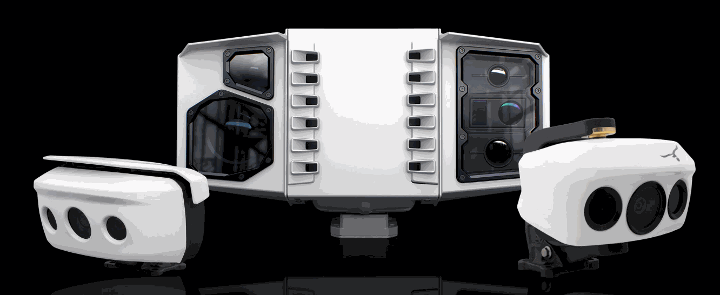 The plus about OSCAR

The risk of collision is automatically assessed and signalled by an alarm on the boat's navigation system, or a smartphone or a tablet. "The strength of OSCAR lies in its reliable alarm system," according to Vincent Riou, winner of the 2004 Vendée Globe and partner in the project.
Manta5 or cycling on the sea
Manta5 is an aquatic bike on foils. A hydrofoil you might say. You grip the handlebars, sit on the saddle, and with a few strokes of the pedals, it glides along on its foils. Far from being a pedal boat, the Manta5 has a 7-level electric assistance system, allowing even easier access to that sensation of gliding.  
The origins of Manta5

Manta5 is "just above a leisure bike. I wanted to make it a sports accessory," says founder Guy Howard-Willis. Behind this simple appearance lies some amazing technology that took almost nine years to develop before being brought to market. A New Zealand innovation, it is now available worldwide.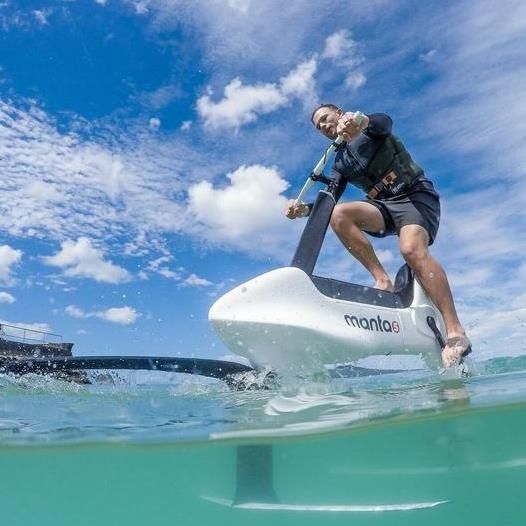 The plus about the Manta5

Light, fast, without keels or floats, the Manta5 can be easily dismantled to fits in the trunk of your car. Biking has no limits: welcome to the cycling of the future, with neither roads nor traffic jams.
It's like your list for Santa Claus: cycling on the open sea; sailing with total peace of mind even at night; no more annual antifouling; or dinghy sailing on a boat equipped with foils. From 2021, even bringing all your surfboards when you go cruising or riding a jet ski without noise or smell is now a reality. Innovations that make everyone happy, whether they are boaters, local residents or ocean dwellers.
And you, what innovations impressed you at the Paris Boat Show?