TEMO, the innovative technology

We're often asked how we managed to put that much power into such a light, small and stylish product. While we can't disclose all of our secrets, we'll share with you the 3 core principles our innovative technology is based on:

All the essentials, but only the essentials: To avoid burdening the product with unnecessary elements, we designed TEMO around two main components: the motor and the built-in battery. We rethought everything else where other manufacturers of electric outboard motors merely reproduce the design and the architecture of thermic outboards. 


By reviewing everything around the propulsion function we reached an efficient, unique and light design.
Energy efficiency:  Most of TEMO's weight is distributed between the battery and the engine. That's why we had to optimise the propulsion part in order to limit the amount of lithium on board. A 450W motor - specifically built to be light and portable - is ideal to deliver enough power to navigate any small boat during 45 minutes, at full speed. We focused our efforts on the engine torque and the propeller design to ensure optimal performance and limit energy consumption.
One function = One expert: we, the TEMO team, are passionate boaters, but we are not experts in everything. While we created this innovative product drawing on our boating experience, each function was the fruit of the work of the best experts in our region. We've partnered with the top experts in Waterproofing, hydro dynamics, design, electronics and autonomy.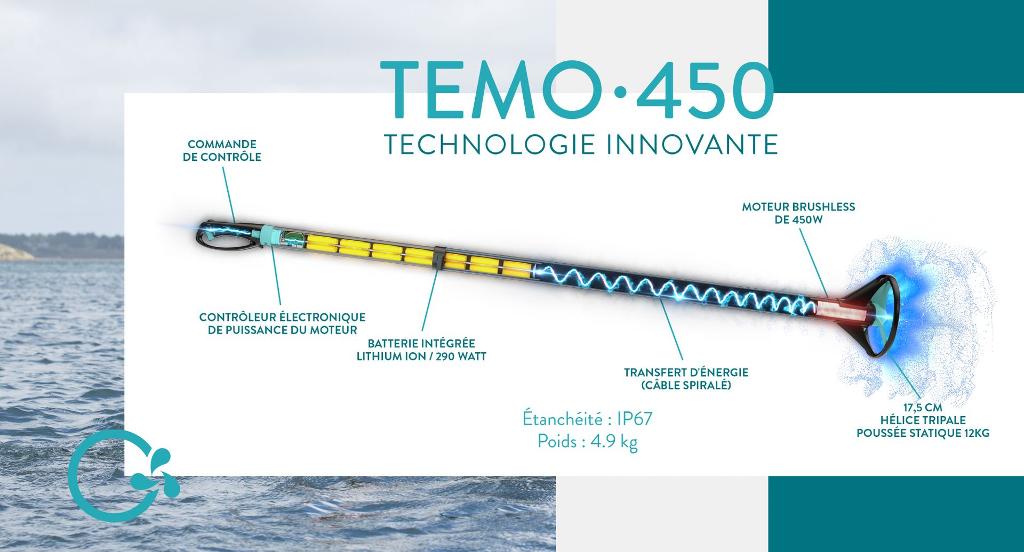 This is how  TEMO contains an unprecedented concentration of technology : powerful, ergonomic, autonomous, waterproof, all at once in a light and very esthetic shell.

English version: